"Turn Your 5 Pip Trades into 100+ Pip Trades"
After 5 Years of Development the Trading Vault is FINALLY open… For years people have been asking us to share our strategies and we are finally ready to tell all to anyone willing to learn.
It started with our free Jump Start strategy and now is being taken to an even higher, more profitable level with the release of our Launch Pad Forex Trading System.
Jump Start was the foundation for a SOLID, powerful strategy. Now, learn how to get more from EVERY trade with Launch Pad.
Watch As I Make 180 Pips On This Live Trade with Launch Pad...

I am going to try something very different here.
All the Marketing experts tell me that I am supposed to hit you over the head with marketing hype if I have any hope of "selling" you my Launch Pad Forex Trading System.
Well, I hope those marketing experts are all wrong because I am about to break all their rules.
You see, I figure this letter is among friends. If you're reading this letter you are either one of those who have signed up for Jump Start or have come here through one of our partners, and odds are by now we have either talked or exchanged emails.
I am going to treat you like a friend here – and that means that I am going to leave out all the hype that those marketing folks tell me to put in.
There is a lot of information in this letter. That is because I want you to make an informed decision… we want to build a community of dedicated forex traders and we are only offering limited number of courses at an introductory rate (more on that later). So I want you to be sure about your decision when you order the course.
From Jed Norwood
Co-creator of the Launch Pad Trading System
3:30 AM May 14th, 2008
Dear Future Successful Forex Trader,

Ok, if this is going to be no-holds barred, I am going to start in a rather unlikely spot… and I am going to be completely blunt:
Why You Shouldn't Buy This Course…
There are definitely some people who should NOT buy this course. No offense, but if any of these describe you, well… we know you won't be satisfied with our course.
Please don't buy Launch Pad Forex Trading System if you view the forex market as another way to gamble. Our education, strategies and tips are to form a trading system not to increase your luck or odds of 'winning'.
Don't buy it if you are looking for the Holy Grail of the Forex market. Launch Pad has great, effective strategies but it is by no means the answer to the entire market.
And if you think there is no way to strategically win a trade, and that success is completely random then you should just click away from this page now. Save your time and money for Vegas.
This isn't Disneyland. The Forex market is full of wonderful opportunities… but only if you know how to read them. That is what Launch Pad is all about…
This course is for serious traders (or serious beginners) who know that it takes work and knowledge to succeed in the market. If you are willing to put forth the effort, then Launch Pad is the strategy you need to start making the forex market profitable for you.
Let me tell you why…
The Secret World of Forex
The forex market can seem to be a secret exclusive group that only those who have been in it for years can be a part of. Everyone else just has to hope that they guessed right or analyzed their complicated indicators correctly so that they made at least some money.
Forex education is often complicated making actual trading only more complicated. Studying indicators, and trends and charts only to realize you have just worked for hours to lose money. You know you can do this, you know you can make money; you just can't seem to get the key to unlock the code.
There is nothing more frustrating than waking up in the morning and sitting down at your computer to make a few trades before you go into work and then realizing that you just lost more than you would make that day at work. You know trading isn't supposed to be like this, you are supposed to make money.
Or perhaps your trades are making you money but you just can't seem to be able to trade long enough to be able to make a decent income. So the hope of ever being able to trade full time is lost simply because you don't have the time to dedicate to it.
Run the Market; Don't let the Market Run You
Launch Pad is designed to be a course focused on simplicity, founded in effective principals and proven to make money. Jump Start showed you how to earn small amounts of pips, it showed you the market can be turned in your favor.
Launch Pad increases those pips, which in turn increases your profits. We are sick of seeing forex courses that are so complicated it would take a Ph D. and years to learn before you are ever successful. This course is meant simply to improve your trading and profits no matter what level you are.
I'll tell you one secret of forex right now! You can be wrong more than you are right and still make money if you use good MONEY MANAGEMENT TECHNIQUES. With the Launch Pad trading system you will see how to take small losses and how to let the winners run for more profit.
Ok my excitement is coming through pretty strong, those were confident statements. I don't make them blindly though.

See What The World Has
To Say About Us...

First there was Jump Start...

"Hello Jed, I have been lucky enough to come across your [Jump Start] video instruction. It is easy to use and not complicated. Although it needs a minimum degree of discretion, if you spend enough time to practice, you won't be disappointed by the results."-

Jasper H
"I have been using [the Jump Start strategy] for a week. By using this, my account grew from $149 to $390 within a couple of days. This is a very good trading [strategy]." -

Emeka Anopueme
"I have found your tips and blog posts very helpful in deciphering the moves currencies make during the day. I look forward to the future for even greater help in taking advantage of the opportunities in the forex market." -

Jonathan Gravenstreter
"I have learned more from these techniques and trading signals [presented in Jump Start Videos] than I have from all the free info and expensive courses put together. I finally have confidence in my trades by just trusting the signals and doing what you teach. My account is growing faster than I expected. I can't say thank you enough." -

Chris McElhatton
"I really appreciate the fact that you've spent so much time providing us with so many training videos especially when you've offered FREE the Jumpstart Strategy! I've bought numerous other strategies and none of the creators provide the kind of training you have provided although they charge for their software. Thank you indeed for caring so much." –

Michael
"I was impressed that you have a lot of good information on your site without the high glossy fancy stuff and you get right to the point. I see allot of systems as a professional in forex business many of which have so many indicators and tools that it gets so complicated and confusing. The simplicity is what I like about this. Great Job." -

Francisco Martinez Varengold Bank AG
"Jump Start has been the most successful system I've used to date. You back your system with intense over and over training and videos." –

Ken
"This is what I have been looking for! Nothing before was explained better than your website. I picked up more information on just a couple of your videos than I have reading an entire book! I thought I was a good trader….Now I can say I am a BETTER trader! Thanks Guys!" -

Wayne Nowlin
"This trading program is kiss in simplicity. Anyone with or without trading experience in the forex market will be truly surprised by the Jump Start program and pleasantly surprised at their results using this program. I would recommend this program to any newbie entering the forex market." - J

erome Whittier
"Thank you for this great material. I have been trading for 3 years and buying a lot of trading strategies but nothing is so easy to follow. But this material really help me a lot with my trading, even better then what I have now." -

Ronald W
"Jed, Thanks for a simple strategy. I have been using EMAs for a number of years, and have found them to be good and bad…but overall very good. I have been live trading your system along side my current system, and have to say I like what I see so far. I look at the 1HR charts for signal and then jump down to 15-30 minute charts for entry. I am anxious to here more about you new "Launch Pad System" in hopes I can catch greater runs. Keep up the good work" -

Rob C. Utah
"Best system to date. Thank you! Looking forward to your new system in progress." – C

awve
Now there is Launch Pad...

Rob C. was one of our beta testers. Listen to what he has to say about Launch Pad:


"Launch pad is very easy to use. The videos that were done were excellent, easy to follow along and very concise. A good system. I have done live trading with it. The best one I did was for over 70 pips which netted me over $700. I wouldn't hesitate at all telling somebody else about it, launch pad is a good system."
Michael was another beta tester. Here's what he had to say about Launch Pad:

"I like the whole thing. It's simple, it's effective. This system is backed up by a lot of training materials. I own a number of softwares and EAs and none of them have this kind of backup. Usually you just get a manual and not . In the case of launch Pad there are so many training videos and they're all so good. That's a TREMENDOUS help to someone like me who's still in the learning mode of forex training. I appreciate that. The system is for everybody really. I'm making lots of money using it. I would happily recommend it to my friends."
Phillip Dietzman from Wisconsin purchased Launch Pad during its introductory week. Read what he had to say:


"Being new to the forex market, I looked for a few weeks for something that I could easily grasp, and put to good use and I am happy to say your Jump Start System was easy to understand and even easier to implement. As for your Launch Pad System, at first I thought "How could Jump Start get any better?" Wow! You really showed me! And even better it's just as easy as Jump Start to understand and implement. I am so glad I found your system when I did! I was way beyond 25 pips a day when I purchased Launch Pad. In fact my pips per day has tripled! And I'm not even done with all of the videos!!!! This is great!"
How Can This Improve YOUR Trading?
It took us 5 years to gather enough information, enough experience and plow through enough strategies to be able to create a course that both made money and could be understood by a beginner. Work on this course started back in 2003 and has become almost an obsession for my partner and I the last 5 months…
For years we have been attending seminars, speaking with real traders who have real problems, answering traders' questions and have seen just about every complicated course there is. We grew tired of answering the same questions from trader after trader, questions that their forex courses should have answered.
Frankly, we wanted to create a course that answered those questions and then went even further and showed you how those answers can make you money. We have spent countless hours over the past few years learning and trading, and now we have spent months compiling our strategy into a course that is simple AND effective.
The bottom line is that we are confident this course will work for anyone willing to work and study the forex market. We can be this confident because we have seen it work not only for ourselves but for many of our friends, associates and now even strangers. This is an ENTIRE trading system that will magnify your profits and give you the confidence you need as a trader.
Introducing…
Launch Pad Forex Trading System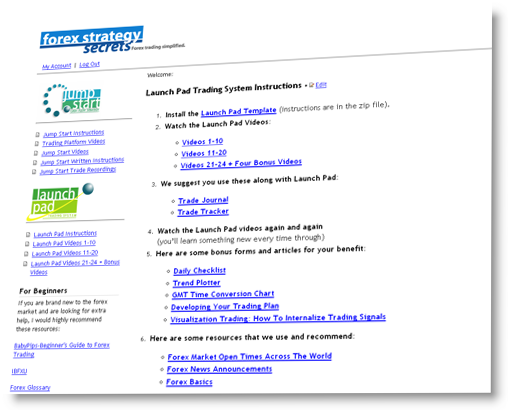 What You Are Going To Get With This Powerful Online Course
You get instant access to everything below!
28 Detailed Instructional Videos: that will show you everything from how to install the indicators, to when to enter trades, to when to exit trades, to how much money you should be risking each trade.
4 Bonus Videos: that teach you what an easy-to-read chart is compared to a hard-to-read chart, how to group currency pairs so that you can find trades easily, whether or not you should hedge your trading positions, and why you should use a daily trading checklist.
Trading Template for Meta Trader 4 Platform: that makes it easy to set the charts up quickly so you can start using the system.
7 Useful Forms & Articles: to help you track your trades, develop your trading plan, convert GMT time to your local time, and help you to visualize the trades before they happen.
A List of Valuable Forex Resources: these are great sources to understand the news and whether or not it will cause some movement in the market, to learn the basics about the Forex market, and to know what times the markets open and close across the world.
30 Day Money-Back Guarantee: if you're not satisfied we'll give you your money back.

Let's take a closer look at the components of this system...


I want you to know exactly what you are getting with this product and so I am going to take the time to spell everything out for you. It took longer than I had anticipated but I feel it is important for you to make a well based decision. So here we go…

Launch Pad Template

The Launch Pad Template is the set up of the indicators on the trading platform. The way we use the indicators makes Launch Pad very simple and easy to use. It is straight forward without the concern of how to use the indicators. Because of the confirmation of the two indicators you have exact entry and exit points. There is no guessing about when to enter a trade or when to get out.

Videos 1-11

In these videos you are shown:
How to set up the indicators
How to use each indicator individually
How to use the indicators together
How to use multiple entry and exit signals
Where to place the stop loss
How to stay in a trade longer
How to let the market let you know the best time to exit
Even though this is basic stuff it is extremely important to know how to use the basic tools. This is information that will lay the foundation for the rest of your trading career.
Once a trader learns the basics of getting in and out of the market then they can start to improve their skills. They will learn to spot entry points, start to learn to make management decisions and know when to get in or out of the market based on their observation of the indicators and movement of the candles in relation to the indicators. If the basic skills are not learned at this point a trader will struggle the rest of the time they trade.
Videos 12-24

In these videos you will learn:
How to spot a trend
How to know how much of your account you should trade
How to use money management as one of the key trading tools
How to use the trend to trade around news times
How to find trades in flat and channeling markets
There are a couple of things that are very important in trading. First you need to develop good money management skills. Without this you will only just get buy. A trader will have moments of glory then lose it all because of lack of money management. Second is to be able to spot a trend in the early stages of the move. By doing this you can get in on the big moves and not just see them after they have formed.
By learning the skills taught in this section a trader will soon realize how much more they know than the average trader. Once the knowledge is learned the application of the knowledge will move a trader way beyond a beginner level. There are many intermediate and seasoned traders, as far as knowledge and experience goes, that still do not know how to apply this knowledge and find themselves just getting by or only being able to talk the talk and not being able to walk the walk.
Videos 25-28

In these videos you will learn:
How to use a trading pattern to help set you up for a trade
How to use the trade journal/trade tracker
Bonus Videos
You will find a check list to get you started each day (What to do each day you trade)
How to spot easy to read charts
How to group the currency pairs to save time in finding trades
Spotting trade patterns will help a trader use the indicators better. It is just another tool to improve your skills.
The key ingredient here is to know how to create an easy to use Trade Journal and USE IT. Part of the trade journal found in Launch Pad is comprised of a simple chart called Trade Tracker. This chart alone is worth years of time and an unlimited amount of money. It will help you uncover your strengths and your weakness in trading. Once you know what to study and work on you have won half the battle.
This is a simple thing but it is vital to developing the discipline needed in trading. You have to treat trading like a business. You need a plan and a way to track the progress of the business. Without the trade journal you do not know where you are in your trading development.
Included in the Bonus Videos you will find some simple guides to save you time in setting up your trading day. It is import to spend time trading and keeping your mind clear so the trades jump out at you rather than hide from you.
Additional Resources
The forms will help you convert GMT time in to your local time. Just print the form and paste it to your monitor. You also get instruction on how to develop a trading plan. You will also find out when the news is going to be announced and which websites are some of the best for instruction on the basics of the foreign currency market.
Included in the forms and articles you will find helpful tools that will shorten the learning curve by years.
These tools seem so simple but it took years to find and develop them. They make your trading life so much easier, so you can work on trading rather than trying to find tools to help you trade.
Our whole approach to trading is to teach effective basics, and then move to more advanced strategies that are designed to magnify your incoming profits. The strategies start with Jump Start (which will earn you a small amount of pips), then moves on to Launch Pad (which will magnify those pips creating more profit), then eventually continues even further with future products. Each strategy added is meant to enhance a trader's success. We feel it is best to build on a solid trading foundation rather than give someone a whole truck load of information and ask them to digest it. Every strategy is designed so that the trader can move at their own pace and be progressively successful at every step.
What Are People Concerned About?
Through the emails we have received, the Facebook messages that have been posted and the comments written on the blog we are finding that many traders have the same concerns. In anticipation that those who have already expressed those concerns are not the only ones with these questions, we have included our answers here:
CONCERN #1: Is it a simple and reliable course? One that a Beginner could get into?
SHORT ANSWER: YES! It gets frustrating to see how many complicated scams there are for beginners. Launch Pad was created to be a simple, easy to use trading strategy that works. It is designed so that a trader can advance at their own pace and trade at any level they feel comfortable with. The key though is that it includes instruction on getting more out of a trade with the same amount of work, how to identify trends and trade them, money management, good basic foundation for a trading career, and so much more. Launch Pad shows you exactly how to do it all step-by-step. It is a simple yet reliable course.
CONCERN #2: Is Launch Pad separate from Jump Start making it a whole new strategy to learn?
SHORT ANSWER: Our whole approach to trading is to teach some basic trading principles then move to more advanced strategies so as to magnify profits. The technique starts with Jump Start and then progresses to Launch Pad moving on to our more advanced courses. Jump Start introduces some basic trading principles and it is a short-term cash flow trading strategy that teaches traders how to get in the market and use indicators to get a few pips. Launch pad is a complete trading system for beginners.

CONCERN #3: Can I survive the Forex World and become profitable quickly?
SHORT ANSWER: Obviously we can't guarantee that you will become rich off your trades because everyone's situation is different. Launch Pad though will teach risk management helping you make your losses minimal. It also teaches you to keep a complete and useful journal that will act as an ongoing learning source. We are confident when we say Launch Pad is meant to take you past the Jump Start strategy and help you make more money on bigger trades. The Forex market is learnable if you study and stick with it. You must use good money management skills so as not to lose all of your money before you develop the skills necessary to be a successful trader.
We aren't done yet though…
One More Bonus
Bonus #1: Norwood Stop

That name doesn't mean a whole lot now, but read on and find out what it means for you:

The Norwood Stop is an Expert Advisor (EA) that follows any profitable trade and closes out the order when the market starts to slow down or reverse, thus securing profits.

It is a tool that works best in a trending market. It works in all time frames but it is best on the 15 min and larger time frames.

The Norwood Stop is a lifesaver for those who like to trade and sleep at the same time! You can put on a trade and go back to bed. The Stop will follow your trade and get you out at the optimal spot, thus securing profits that you could have missed. If you are working a full time job you can also have the Stop working for you while you're at work.

The Norwood Stop has to be started by the trader, but from there out it does the work for you. We find it is a great money management tool that assists us when we are unable to physically manage a trade ourselves. It is not the solution to all problems but is a gigantic help with your trading.

This valuable tool is going to work differently than most products. When you purchase Launch Pad you will get the Norwood Stop valued at $200 for free. The Stop and Launch Pad go hand in hand and we wanted to make sure you had all you needed to succeed.

Access to the Norwood Stop will be available two weeks after the introductory week is over. This will give you time to master the powerful information in Launch Pad and understand the need and value of the Norwood Stop. Bottom line, in order to avoid information overload we are going to hold back this resource to give you time to digest everything else.


And that leads us to…
The Iron Clad Guarantee
We are offering a strong guarantee because simply we want our customers to be pleased with anything they purchase from us. Our deal is…
Your purchase is risk-free. Give Launch Pad Forex Trading System a try for 60 days. If you aren't completely thrilled with the course, then we don't want your money. Simply let us know within 60 days of your date of purchase and we'll promptly issue you a refund for the course.
Go ahead and study the course for a full 60 days. It is completely risk-free. Don't like it? Just let us know within 60 days. We'll refund your money on the spot.
No harm done. No hard feelings. And we still part as friends.
The last thing I want is to have your money if you aren't happy. If you don't want the course for some reason, then we can't get your money out of our wallet and into yours fast enough.
So go ahead secure your copy…
Yes Jed! I'm ready to invest $199!
Everyone Says "Get a Mentor"…
...Easier Said Than Done!
Just about every successful trader will tell you that the quickest way to trading success is to find a mentor – someone to take you under their wing and show you the ropes.
But if you're looking for real world guidance and hard fought market-wisdom it is awfully hard to find. That is what we are offering you in Launch Pad, and will continue to offer. We take our email questions very seriously and so just because we have released a course doesn't mean we will stop checking and answering our email. If at any time you have an issue or concern or question just shoot me a line and we will do our best to dig up an answer for you.
Good Trading!
Jed Norwood
Yes Jed! I'm ready to invest $199 for the
Launch Pad Trading System
to become a better Forex trader!